By Jennifer L Scott DDS
June 25, 2019
If you're one of the millions of people wearing an oral appliance, you already know how important it is to your dental health. Whatever the purpose—replacing teeth, stopping teeth grinding or guarding against injury—you want to get the most and longest service from it. That means showing your appliance some tender loving care on a regular basis.
It doesn't require a lot of time and effort to clean and maintain your oral appliance. But there are some pitfalls that could lead to greater wear and tear and just outright damage. Here are 3 things you should be on the alert for to keep your appliance doing its job for you.
Be careful how you clean it. Your appliance might resemble natural oral tissue, but it's not—so don't use toothpaste. Toothpaste contains abrasives, which are fine for tooth enamel but damaging to materials in your appliance. Instead, use dish detergent, hand soap or a specialized cleaner. Don't use hot or boiling water, which could soften any plastic and distort the appliance's mouth fit. Nix the bleach too, which can fade colored portions of the appliance that mimic gum tissue.
Don't wear them 24/7 unless your dentist advises. Depending on the type and function of your appliance, you shouldn't wear them around the clock unless your dentist advises otherwise. Dentures are usually removed at night while you sleep to help prevent bacterial growth. Keeping them out at night -and keeping them clean—will help lower your risk of dental disease. One caveat, though: there are some concerns today about the effect of keeping dentures out of the mouth at night on sleep apnea. It's a good idea, then, to discuss the issue with your dentist regarding taking dentures out at night.
Prevent accidental drops on hard surfaces. Chewing forces are considerable, but your appliance is designed to take it. The same can't be said, though, if they accidentally fall on a hard surface—the fall could crack or break them. To protect against this, be sure to put a soft towel or cloth in your sink basin while you're cleaning your appliance. And don't place it on a night stand or low surface where it could be knocked off accidentally by a child, a pet or you. A sudden accident like this could be costly.
If you would like more information on extending the life of your oral appliance, please contact us or schedule an appointment for a consultation. You can also learn more about this topic by reading the Dear Doctor magazine article "10 Tips for Cleaning Your Oral Appliance."
By Jennifer L Scott DDS
June 15, 2019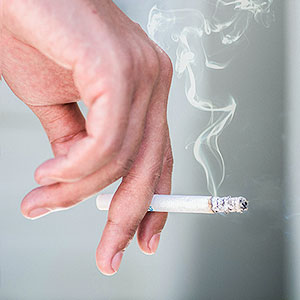 Although costly in the beginning, dental implants often turn out to be the least expensive tooth replacement option. That's because their enviable record for longevity often outpaces dentures or bridges. Over the long-term you might spend less for implants than these other restorations.
But even with the high success rate of dental implants (greater than 95% survive the ten-year mark), we can't guarantee they won't fail. And if you're a tobacco smoker, the risk of failure might be even higher. One study, for example, found early implant failures were twice the rate for smokers over non-smokers. Although implant failures overall are low, smoking seems to be a factor in those that do.
There are a number of reasons to account for this. For one thing, inhaled smoke can damage salivary glands, reducing the flow of this important fluid. Saliva helps control bacterial growth and neutralize mouth acid, so without it you're more susceptible to tooth decay or periodontal (gum) disease. Either infection could ultimately weaken implant-supporting bone.
The nicotine in tobacco can also restrict oral blood vessels and lower their ability to supply antibodies and nutrients to the teeth and gums. This slows healing, which could have one particular effect on implant durability.
During the intervening weeks between implant placement and crown attachment, the implant's titanium post attracts bone cells that grow and adhere to its surface. The effects of nicotine on healing, especially right after implant surgery, can interfere with this integration process so that the implant doesn't anchor in the bone as well as it should.
If you're a smoker, you can increase your chances of implant success—and have a healthier mouth overall—by quitting smoking beforehand with the help of a cessation program. Or at the least, consider stopping smoking for one week before implant surgery and for two weeks afterward.
And be sure to brush and floss your teeth daily and visit your dentist regularly to keep your teeth and gums as healthy as possible. Stopping smoking and practicing effective oral hygiene could make a big difference in the success or failure of your implant.
If you would like more information on smoking and your dental health, please contact us or schedule an appointment for a consultation. You can also learn more about this topic by reading the Dear Doctor magazine article "Dental Implants & Smoking."
By Jennifer L Scott DDS
June 05, 2019
Fans of the legendary rock band Steely Dan received some sad news a few months ago: Co-founder Walter Becker died unexpectedly at the age of 67. The cause of his death was an aggressive form of esophageal cancer. This disease, which is related to oral cancer, may not get as much attention as some others. Yet Becker's name is the latest addition to the list of well-known people whose lives it has cut short—including actor Humphrey Bogart, writer Christopher Hitchens, and TV personality Richard Dawson.
As its name implies, esophageal cancer affects the esophagus: the long, hollow tube that joins the throat to the stomach. Solid and liquid foods taken into the mouth pass through this tube on their way through the digestive system. Worldwide, it is the sixth most common cause of cancer deaths.
Like oral cancer, esophageal cancer generally does not produce obvious symptoms in its early stages. As a result, by the time these diseases are discovered, both types of cancer are most often in their later stages, and often prove difficult to treat successfully. Another similarity is that dentists can play an important role in oral and esophageal cancer detection.
Many people see dentists more often than any other health care professionals—at recommended twice-yearly checkups, for example. During routine examinations, we check the mouth, tongue, neck and throat for possible signs of oral cancer. These may include lumps, swellings, discolorations, and other abnormalities—which, fortunately, are most often harmless. Other symptoms, including persistent coughing or hoarseness, difficulty swallowing, and unexplained weight loss, are common to both oral and esophageal cancer. Chest pain, worsening heartburn or indigestion and gastroesophageal reflux disease (GERD) can also alert us to the possibility of esophageal cancer.
Cancer may be a scary subject—but early detection and treatment can offer many people the best possible outcome. If you have questions about oral or esophageal cancer, call our office or schedule a consultation. You can learn more in the Dear Doctor magazine article "Oral Cancer."
This website includes materials that are protected by copyright, or other proprietary rights. Transmission or reproduction of protected items beyond that allowed by fair use, as defined in the copyright laws, requires the written permission of the copyright owners.