Posts for tag: oral hygiene
By Jennifer L Scott DDS
August 04, 2019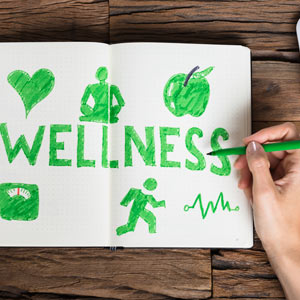 August is National Wellness Month. Since part of staying in good overall health is taking care of your dental health, it's a good time to look at ways you can improve and maintain your oral health. Here are some tips:
Practice good oral hygiene. A fundamental key to a long life of healthy teeth and gums is keeping them clean of dental plaque. This thin biofilm of bacteria and food particles is the number one cause of tooth decay and periodontal (gum) disease. Brushing twice and flossing once each day gets rid of that unpleasant grittiness and reduces your risk of disease.
See your dentist regularly. A good daily oral hygiene habit works best at controlling soft plaque. But any that you miss—a possibility even with great brushing and flossing skill—can harden into calculus (tartar). To remove it, you'll need professional cleaning by a dental professional. The American Dental Association recommends a comprehensive dental cleaning at least twice a year to fully minimize your disease risk.
Eat a low-sugar, dental-friendly diet. Oral bacteria love to feast on the leftovers from your eating, especially sugar. So, cutting back on foods with added sugar isn't just good for other aspects of your health, it can also help "starve out" bacteria and reduce their population in your mouth. You can also boost oral health by eating foods rich in minerals like calcium to maintain strong bones and teeth, and antioxidants that guard against oral cancer.
See your dentist at the first sign of problems. While hygiene, dental care and a nutritious diet can greatly reduce your risk of disease, it won't eliminate it completely. So see your dentist promptly if you notice red, swollen or bleeding gums, mouth pain or unusual spots on your teeth. The sooner you're diagnosed and treated, the less damage from dental disease and future treatment expense you'll endure.
Manage other inflammatory conditions. If you're dealing with a condition like heart disease, diabetes or arthritis, it could increase your risk of gum disease or make any occurrence of it worse. That's because gum disease and many systemic conditions share chronic inflammation as a common link. If an inflammatory condition is not managed through proper treatment, it could worsen any gum disease symptoms you have.
Pursuing wellness is a worthy goal—just be sure you include your oral health in the mix. A healthy mouth is a key ingredient for a healthy life. If you would like more information about gaining and maintaining optimum oral health, please contact us or schedule an appointment for a consultation. To learn more, read the Dear Doctor magazine articles "Daily Oral Hygiene" and "Good Oral Health Leads to Better Health Overall."
By Jennifer L Scott DDS
July 05, 2019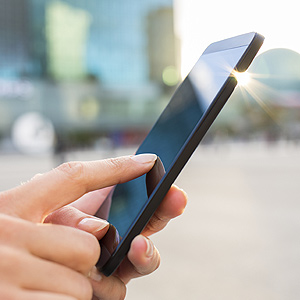 If you're the kind of person who can't do without a smart phone, you've probably heard the expression "There's an app for that!" These nifty little programs let you get directions, check the weather, watch stock prices… even optimize your sleep patterns and make high-pitched dog whistles. And shortly, you'll be able to check how well you've been brushing your teeth.
News reports have mentioned a soon-to-be-available toothbrush that will interface with an app on your smart phone. The brush has sensors that record how much time you spend brushing, whether you reach all parts of your mouth, and whether you brush correctly (with up and down motions, not just side to side). It charts your oral hygiene habits, scores your brushing technique — and, if you allow it, shares information about how well (or poorly) you're doing with your family, friends… even your dentist.
So do you need to run out and buy one of these gizmos as soon as they're available? Of course not! However, anything that encourages you to take better care of your oral hygiene can't hurt. A wise dentist once said: The important thing is not the brush, but the hand that holds it.
If you're a "gadget person," you may be intrigued by the device's high-tech design, and the fact that it interfaces with your phone. Plus, maybe the idea of compiling (and sharing) your brushing record has a certain appeal. On the other hand, you might prefer a sleek, light electric brush that doesn't keep track of your movements. Or maybe the simplest brush of all — a manual one, with soft bristles and a comfortable handle — works best for you.
The most important thing is that you regularly practice good oral hygiene: Brush twice a day, for two minutes each time, and floss once a day. Use whichever brush is best for you, and be sure to change it every three months, or when the bristles get stiff. Stay away from sugary snacks between meals (they contribute to decay by keeping your teeth bathed in acidic byproducts). Don't use tobacco in any form, or chew on things that don't belong in your mouth. And remember to come in for regular exams and professional cleanings. If an app helps you do these things — we're all for it.
If you would like to learn more about maintaining good oral hygiene, please contact us or schedule an appointment for a consultation. For more information, see the Dear Doctor magazine article "Top 10 Oral Health Tips For Children."
By Jennifer L Scott DDS
June 25, 2019
If you're one of the millions of people wearing an oral appliance, you already know how important it is to your dental health. Whatever the purpose—replacing teeth, stopping teeth grinding or guarding against injury—you want to get the most and longest service from it. That means showing your appliance some tender loving care on a regular basis.
It doesn't require a lot of time and effort to clean and maintain your oral appliance. But there are some pitfalls that could lead to greater wear and tear and just outright damage. Here are 3 things you should be on the alert for to keep your appliance doing its job for you.
Be careful how you clean it. Your appliance might resemble natural oral tissue, but it's not—so don't use toothpaste. Toothpaste contains abrasives, which are fine for tooth enamel but damaging to materials in your appliance. Instead, use dish detergent, hand soap or a specialized cleaner. Don't use hot or boiling water, which could soften any plastic and distort the appliance's mouth fit. Nix the bleach too, which can fade colored portions of the appliance that mimic gum tissue.
Don't wear them 24/7 unless your dentist advises. Depending on the type and function of your appliance, you shouldn't wear them around the clock unless your dentist advises otherwise. Dentures are usually removed at night while you sleep to help prevent bacterial growth. Keeping them out at night -and keeping them clean—will help lower your risk of dental disease. One caveat, though: there are some concerns today about the effect of keeping dentures out of the mouth at night on sleep apnea. It's a good idea, then, to discuss the issue with your dentist regarding taking dentures out at night.
Prevent accidental drops on hard surfaces. Chewing forces are considerable, but your appliance is designed to take it. The same can't be said, though, if they accidentally fall on a hard surface—the fall could crack or break them. To protect against this, be sure to put a soft towel or cloth in your sink basin while you're cleaning your appliance. And don't place it on a night stand or low surface where it could be knocked off accidentally by a child, a pet or you. A sudden accident like this could be costly.
If you would like more information on extending the life of your oral appliance, please contact us or schedule an appointment for a consultation. You can also learn more about this topic by reading the Dear Doctor magazine article "10 Tips for Cleaning Your Oral Appliance."